What is Preventive Maintenance?, Advantages and Disadvantages of Preventive maintenance.
Preventive maintenance is one of the four types of maintenance. Preventive maintenance prevents the breakdown by timely inspection, lubrication, adjustment, repair, and overhaul.
What you are going to learn?
What is Preventive maintenance?
In simply we can say, Preventive maintenance is maintenance carried out before the breakdown occurs. It tries to minimize problems of breakdown maintenance (that means problems like excessive delay in production, time loss, productivity loss, etc).
The maintenance engineer locates the weak spot like beating, parts under vibration, part under high temperature, etc. Then inspect and repair them thereby reducing the danger of breakdown.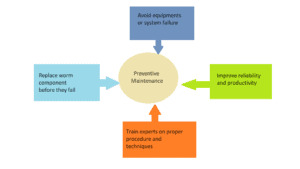 Preventive Maintenance (Pic- Pixabay)
Objective of preventive maintenance :
To Locating any condition which may lead to a breakdown.
To make the machinery and equipment always ready to use and maintain their optimum production efficiency.
To achieve maximum productivity by the minimum repair cost and ensure the safety of workers.
Equipment to inspect :
Application of Preventive maintenance to all the items is not necessary, there are certain items that are more essential for continuing the production than others.
Breakdown of some key item can interrupt the whole production of the plant. Examples- Process equipment (furnace, compressor, pump, motor, electric wiring, etc), Material handling equipment (cranes, lifts, conveyors, hoists, etc), Safety equipment(pressure relief valve, fire extinguisher, etc).
Frequency of inspection :
The frequency of inspection can be decided by past data which was created by a number of experiments.
Also the basis of costs and saving of the Preventive maintenance program. If the cost is very high then it's better to reduce the frequency of inspection.
Equipment that is subjected to vibration, overloading, exposure to dirt, fatigue, stress, corrosion is required to inspect frequently.
Advantages of Preventive maintenance :
Reduced breakdown and repair time.

Low maintenance cost.

Better production quality and lower unit cost of manufacture.

The chance of accidents reduced.

No delay in delivering the product to the customer, etc.
Disadvantages of Preventive maintenance :
Cost of the Preventive maintenance is high due to regular inspection of the equipment.

Preventive maintenance required more workers compared to breakdown maintenance.

Because there is a regular inspection, sometimes it leads to over maintenance and money loss.